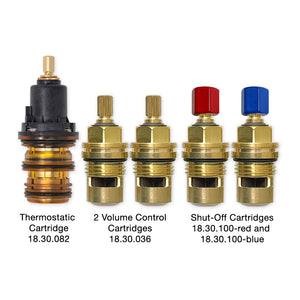 Service Pack 5 for Sigmatherm 1/2" Thermostatic Shower Valve
Your premium thermostatic shower system contains a sophisticated thermostatic cartridge and components that over time experience wear and tear, corrosion, and build up of mineral deposits which impair their proper functioning.
To ensure continued safe and enjoyable use of your thermostatic shower system, we recommend servicing it about every 15 years. You should replace the thermostatic cartridge, volume control cartridges, and check valves.
---
Items Included
One Eurotherm® 1/2" Full-Flow Thermostatic Cartridge 18.30.082
Two 1/2" German Volume Control Cartridges 18.30.036
Shut-Off Cartridge 20 Point Red and Shut-Off Cartridge 20 Point Blue
---
Shop with Confidence
No sales tax except in California
These are quality products covered by our warranty
---
Fulfillment

Usually ships the day of purchase.
---
Installation
Highly recommended tool: 17mm socket with long handle.
When replacing the thermostatic cartridge, calibrate the cartridge by setting the hot and cold temperature limits (see the Installation Instructions), to protect the user while bathing.
---