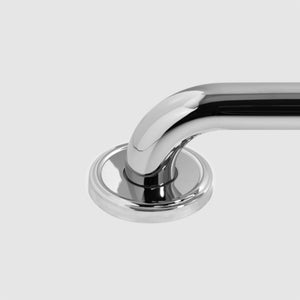 Shower Grab Bar with Decorative Ridge Flange
Product 18.18.412, 18.18.413, and 18.18.414
Shown in Polished Chrome metal finish.
Use the menu above to select your desired metal finish. Price varies based on metal finish.
Measurements given are center to center. Add 3" for overall length. Bar diameter 1-1/4".
FEATURES
Elegant design
Certified to meet or exceed industry and sanitary standards
Made from 18 Gauge (0.049") tubular brass and/or #304 stainless steel.
Finest American metal coatings and hand-polished metal finishes
Wall flanges are Snap-On concealed, 3" diameter.
When properly installed by a professional contractor, will exceed the Federal Weight Load requirements of 250 lb/f (pounds of force).
Comply with ADA, FHA, VA and HUD requirements and specifications when properly installed. All bars comply with Federal Specifications WW-P-541/8b, Amendment 1, 16 April 1990 and ANSI 117.1
SHIPPING TIMES
Ship in 3-5 Days: Polished Chrome, Polished Brass PVD, Satin Nickel PVD, Antique Bronze
Ship in 2-3 Weeks: Polished Nickel PVD, Matte Black, Polished Black PVD
Ship in 3-4 Weeks: Brushed Bronze PVD, Satin Gold PVD, Coco Bronze, Black Oil Rubbed Bronze, Antique Brass, Soft Pewter, Satin Chrome
NOTES
Also available in 30", 36", or 42" in length. Contact us for these sizes.